Department of Yoga & Natural Health Science established in the year 2015, is a constituent department of Shri JJT University, Jhunjhunu. Department of Yoga & Natural Health Science has been developed in accordance with the Central Council of Research in Yoga & Naturopathy, Ministry of AYUSH, Government of India. The college will be developed as a prestigious center for education in Yoga and Naturopathy, nationally as well as internationally Yoga is an Art and Science of healthy living. It is a spiritual discipline based on an extremely subtle science, which focuses on bringing harmony between mind and body. The holistic approach of Yoga is well established and it brings harmony in all walks of life and thus, known for disease prevention, promotion of health and management of many lifestyle –related disorders.
OBJECTIVES :
• The Yoga Programs are aimed to train students to take up Yoga as a profession.
• To impart the knowledge about Yoga, its foundations and applications to the aspirants.
• To promote the awareness for positive health and personality development in the student through Yoga.
• Instilling and inculcating the general interest and inquisitive knowledge about Yoga for Health, personality development and spiritual evolution.
• To prepare institutionally trained Yoga professionals to impart Yoga training to all sections of the society.
• To prepare the graduates in Yoga to study the higher aspects of Yoga Education.
STATUTORY BODIES APPROVALS:
• U.G.C.
• C.C.R.Y.N.
• AYUSH Department, Govt. of India.
ACHIEVEMENTS:
Year 2019 –
• 'Yogashree Samman' was awarded to Dr. Sagar Kachhwa, Head of Yoga Department, Shri JJT University and Mrs. Poonam Singh, for the work done in Yoga field at 20th All India Youth Conference, Udayagiri, Jejpur, Odisha.
• In the first Yoga World Cup Festival, Mr. Rajendra Kumar, a student of the Shri J J T University, won the gold medal by securing first place in the 35 to 40 age group (men) competition.
• In the first Yoga World Cup Festival, Shri J J T University student Pawan Kumar Alladia won bronze in the 25 to 35 age group (men) by finishing third in the competition.
COURSE TYPE
COURSE NAME
ELIGIBILITY CRITERIA
DURATION (YEAR/SEM)
REGISTRATION FEES
FEE FOR GIRLS (ANNUAL/SEM)
FEE FOR BOYS (ANNUAL/SEM)
Diploma
Diploma in
Naturopathy, Yogic Sci. & Dietetics
Pass in 10+2 or equivalent from a recognized board.
1 Year / 2 Sem.
1000/-
7,500/-
15,000/-
PG Diploma
PG Diploma Naturopathy, Yogic Sci. & Dietetics
Bachelor's degree or equivalent
1 Year/ 2 Sem.
1000/-
7,500/-
15,000/-
M.A./M.Sc.
M.A./M.Sc. Yoga
Bachelor's degree or equivalent
2 Year / 4 Sem.
1000/-
10,000/-
20000/-
Ph. D.
Doctor of Philosophy
MA. Economics
3 Years
5000/-
80,000*/-
80,000*/-
Lab Name
Photo
Hydro Therapy Unit
Massage and Shirodhara Therapy unit :
Mud Therapy Unit :
Yoga Therapy Unit :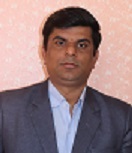 Name: Dr. Sagarsinh Kachhawa (Head of Department)
Mobile No. 8805886785
Email: yoga@jjtu.ac.in